8 mins read
Antwerpen on a Budget: A Guide to Visiting Antwerp Belgium Without Overspending
Antwerp is not only the largest city in Belgium — the vibrant port city is also renowned for many incredible things, including the title "diamond capital of the world". Antwerp is also known for its striking Flemish architecture, fine arts legacy, and a thriving cultural scene.
While we can't deny that a city famed for diamonds is expensive to visit, it's entirely possible to explore without breaking the bank.
In this budget traveller's guide to Antwerp, we'll explore affordable dining options, accommodation tips, free tours, and activities, and how to make the most of your visit without overspending. Also Read: CAPE MAY RENTALS
Find cheap accommodation in Antwerp
One of your biggest travel expenses is accommodation. The good news is Antwerp has a wide array of affordable accommodation options that will suit your needs.
1. Hostels
There are a number of budget-friendly hostels in Antwerp. For a dorm bed, you can expect to pay around €20-€30 per night. For a private room, expect to pay around €60-€100 per night.
2. Airbnbs
You can also find a number of affordable Airbnbs in Antwerp. For a private room, you can expect to pay around €50-€100 per night.
3. Budget hotels
There are also a few budget hotels in Antwerp. For a basic double room, you can expect to pay around €70-€130 per night.
4. Serviced apartments in Antwerp
Want the convenience of a hotel with the space, privacy, and home-like ambiance of an apartment? Serviced apartments in Antwerp offer a variety of amenities, such as fully equipped kitchens, laundry facilities, and fitness centers. While they seem a bit more expensive than hotels, they're a more cost-effective choice for long-term stays. Also Read: CAPE MAY NJ VACATION RENTALS BY OWNER
Seek affordable dining experiences
With Antwerp's amazing culinary scene, it's so easy to lose track, not only of your calories but your expenses as well. Luckily, we can share affordable dining ideas that'll let you indulge while sticking to your budget
1. Belgian Street Food: Fries, Waffles, and More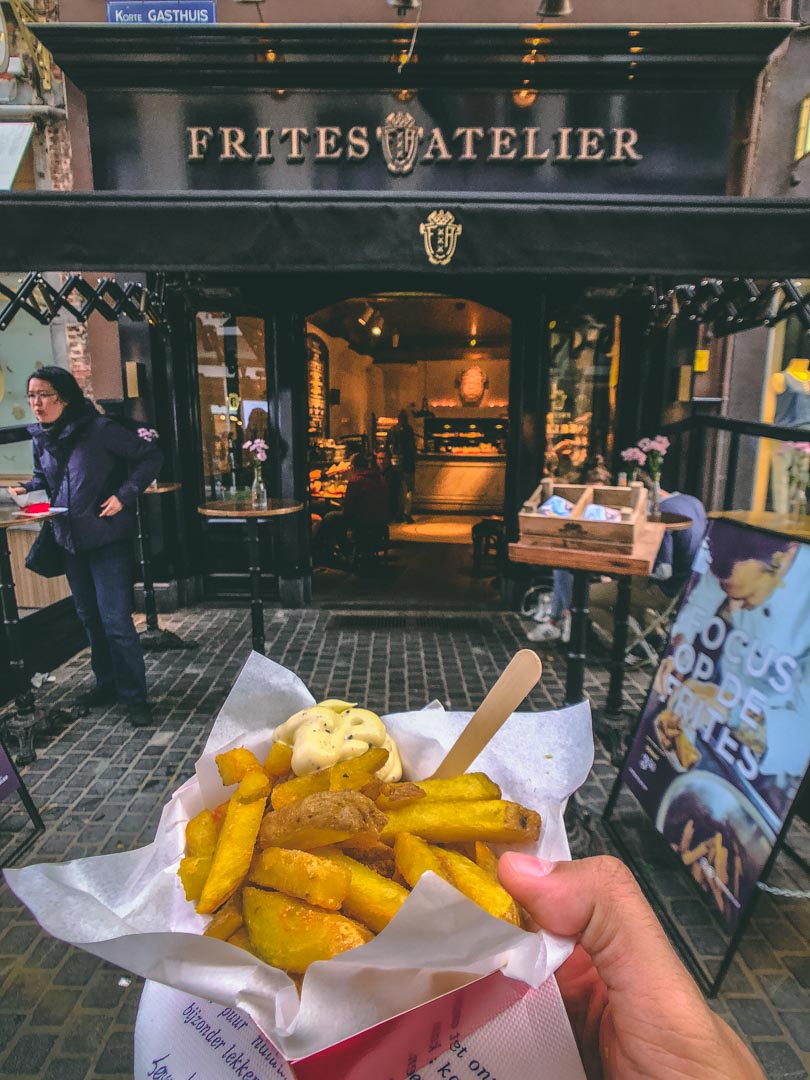 Embrace the Belgian tradition of enjoying handy fries and waffles as you walk around the beautiful city. These local friteries and waffle shops are hard to miss since they're dotted around the city of Antwerp. You can have a large cone of crispy frites (fries) for around €3-€4. As for waffles, a plain waffle typically costs around €1-€2 while a waffle with toppings can cost around €2-€4.
2. Snack bars
There are also a number of snack bars in Antwerp, where you can get sandwiches, wraps, and other snacks for around €4-€6. Make your food trip more special by exploring the city while eating these travel-friendly snacks or planning a scenic picnic.
3. Dining out
Skip fancy restaurants! If you want to dine out in Antwerp, there are a number of local eateries and budget-friendly dining spots that serve generous servings of hearty Belgian dishes. You can expect to pay around €15-€20 for a main course at a low-cost restaurant or cafe.
4. Get your hands on some Antwerp Hands
Finish it off with something sweet, like Antwerp Hands. Also known as Antwerpse Handjes, these are a traditional Belgian biscuit or chocolate in the shape of a hand. They are a popular souvenir from the city of Antwerp, and are also eaten as a snack or dessert. Also Read: CAPE MAY RENTALS BY OWNER
Explore Antwerp City Centre Without Paying a Dime
The city has a charming medieval center, with narrow cobbled streets and picturesque canals. Whether on foot or from a boat. Antwerp is a great place to simply wander around and soak up the atmosphere.
1. Explore Grote Markt (Market Square)
Antwerp's main square, Grote Markt, is a hub of activity and a great place for people-watching. Admire the guild houses and the magnificent Brabo Fountain in the center of the square.
2. Free walking tours
There are a number of free walking tours offered in Antwerp. This is a great way to learn about the city's history and culture.
3. Scheldt River
The Scheldt River runs through the heart of Antwerp. You can take a walk along the riverfront for free or pay a small fare for taking a boat tour.
4. Discover Diamond District
Antwerp is known as the world's diamond capital. You can visit the Diamond District to see how diamonds are cut and polished.
5. Chill by Stadspark (City Park)
This picturesque park is perfect for a leisurely stroll or a peaceful picnic. It features beautiful green spaces, sculptures, and a serene pond.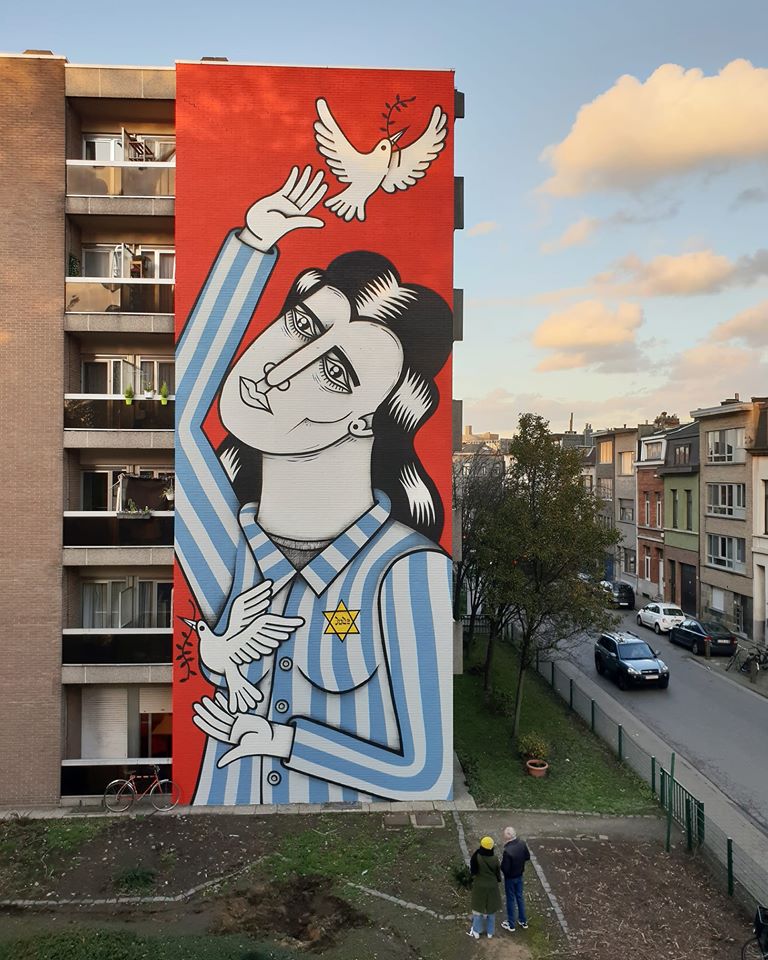 6. Walk around Antwerp's vivid neighborhoods
Want to travel like a local? Wander through the different districts, each with its own unique facades and character.
Zurenborg: Explore the Zurenborg district, known for its eclectic and colorful Art Nouveau architecture. Strolling through its streets and admiring the facades of the houses is a delightful experience.
Borgerhout: The district of Borgerhout is known for its vibrant street art scene. Take a self-guided tour through the neighborhood to discover colorful and thought-provoking murals and graffiti art.
Discover Antwerp's Heritage Sites and Architectural Gems
Antwerp has a diverse architectural landscape, with buildings dating from the Middle Ages to the present day. Some of the city's most notable landmarks include the Antwerp City Hall, the Cathedral of Our Lady, and the Central Station. Also Read: CAPE MAY NJ VACATION
1. Antwerp City Hall
Antwerp City Hall is a beautiful Renaissance building located in the heart of the city. You can take a free guided tour of the interior.
2. Cathedral of Our Lady (Onze-Lieve-Vrouwekathedraal)
The stunning Gothic cathedral is not just a place of worship — it's also home to a number of works of art, including Rubens's Assumption of the Virgin. While you'll need to pay to enter the cathedral, the exterior is a masterpiece in itself and can be admired for free. Marvel at its towering spires and intricate architecture.
3. Antwerp Central Station (Antwerpen-Centraal)
Antwerp's Central Station is a beautiful Art Nouveau building. It's worth a visit even if you're not catching a train.
4. Antwerp Port
Take a walk along the riverfront to see the bustling activity of one of Europe's largest ports. Watch the ships and containers being loaded and unloaded, providing a unique glimpse into the city's industrial side
Get Your Art Fix: Antwerp Museums, Galleries, and Art Experiences
Antwerp has a rich artistic heritage, dating back to the Renaissance. The city is home to a number of world-class museums, including the Royal Museum of Fine Arts Antwerp, the Museum Plantin-Moretus, and the MAS Museum.
1. MAS Museum
The MAS Museum is a museum dedicated to the history and culture of Antwerp. It has a permanent collection that is free to visit. Don't forget to visit the rooftop, which offers panoramic views of the city and the harbor.
2. Museum Plantin-Moretus
The Museum Plantin-Moretus is a museum dedicated to the history of printing. It is a UNESCO World Heritage Site and has a permanent collection that is free to visit.
Take note of Museum Sundays: Some museums in Antwerp, such as the Plantin-Moretus Museum and the Museum aan de Stroom (MAS), offer free admission on the first Sunday of the month.
3. Openluchtmuseum voor Beeldhouwkunst Middelheim
The Openluchtmuseum voor Beeldhouwkunst Middelheim is an outdoor sculpture park located in the Middelheim district. It has a permanent collection of over 200 sculptures that is free to visit.
Who says it's impossible to visit the city of diamonds with only a couple of pennies in your pocket? By following the tips above, you can make the most out of Antwerp while saving money for your next adventures. Also Read: VACATION HOUSE RENTALS IN CAPE MAY NJ
Author Bio: Carmina Natividad is a content writer during the weekends, and a travel and food blogger 24/7. She may be an awkward introvert but she's got a lot to say about travel, food, and cultural appreciation. To know more about hotels and travel blogs, you may visit PREMIER SUITES PLUS Antwerp